Spider/Puma Season on the Selway
By Doug Tims | Semi-retired CEO of Maravia Corp.|Owner of Maravia Rafts & CRG.

With all the bad news in 2020, how about news that will put a smile on boaters' faces? This is one of those rare times in August when there will be enough water in the Selway to float after the control season ends on July 31st. As I write this the Selway is running over 1,700 cfs at the Lowell gauge, and is forecast to be 1,500 on August 1st. That equates to over 1 foot on the Paradise gauge. I call it Spider/Puma season. So for all who have cursed with disappointment when the lottery did not deliver a coveted Selway launch permit, this is your chance.
Be aware, it calls for the right equipment, and all of your light packing skills, or you will turn the trip of a lifetime into a grueling slog down the river. I learned that the hard way. Twenty years ago I received a phone call from Mike Edmondson who worked for the Idaho Department of Environmental Quality (DEQ) asking if it was possible to float the Selway in September. I was one of the fortunate few who had a permit to take people down the river for hire and had been doing so for 15 years, so my answer was yes. My normal launch dates were in June and July, but I had talked many times to Dick Waite and his daughters Marilyn and Bz about their annual post-season trips in small boats and figured, "How hard can it be?"
The answer turned out to be "very hard" or "manageable and fun" depending on your equipment and preparation. DEQ wanted to float the river in September so they could plant some temperature sensors in the river one year and come back the next year to retrieve them. It seems that they had gotten a grant from the federal government to study a wild, wilderness stream to see how warm the water got each year. EPA had issued a regulation saying that streams could not be allowed to exceed 70 degrees, and the folks at Idaho DEQ said, "Wait a minute! We have totally pristine wilderness streams that get that warm every year." The feds said, "Prove it, and here is the money to do it."
Someone at DEQ had connections with the folks at Selway Lodge, so we flew all our gear into the Lodge and started there. We were less than a mile above Bear Creek, a major tributary, and figured that would be a big help to float the three 14' Williwaw 1 rafts, gear and 8 people. The Lowell gauge was reading 650cfs. Rain would raise it to 1,200, then back to 850 during the trip. We had six days to float the 33 miles to the takeout at Race Creek. It is a long story, but the short version is we had too much weight and too wide rafts. My friend Bob Volpert had agreed to be one of the guides. After this trip his wife, Mary, had orders, "If the phone rings and it's Doug Tims, hang up!"
On the next to last day I made a bad move and ended up almost totally submerged, stamped on a large boulder. The only way to get it off was deflate a tube, but the valves were under water. So I cut it, z-dragged it off and patched it. It was late in the day and we could not make it to camp where several of the DEQ biologists had hiked ahead, so we sent a guide to retrieve them and set up camp at river's edge next to the stamp rock. Hiking at night on the brushy Selway trail is no fun, especially when a Selway rattler has claimed his turf. But, we made it and even got a smile out of Bob the next morning as he made pancakes among the rocks in our riverside kitchen.
That was 2000. In 2001 we applied lessons learned the hard way. We went back with five rafts, not three, and narrower, nimble Maravia Spider rafts, lighter loads, and took three extra days. The difference was the ability to enjoy the Selway, fish its crystal clear waters, learn a lot from the biologists and what you can do with the right equipment.
Just below Bear Creek there is an unnamed rapid that is a real struggle in low water. Basically the strategy is to run a narrow chute on the left, get stuck, drag your boat. At least it was until Jeremy Syron taught me the real value of a Spider in the hands of a strong skilled guide. Years ago Corey Chase told me that 90% of rapids can be run by "enter right or left of center and look out for holes and rocks," so my field of vision looking downstream is about 120 degrees, looking for options, obstacles and rocks.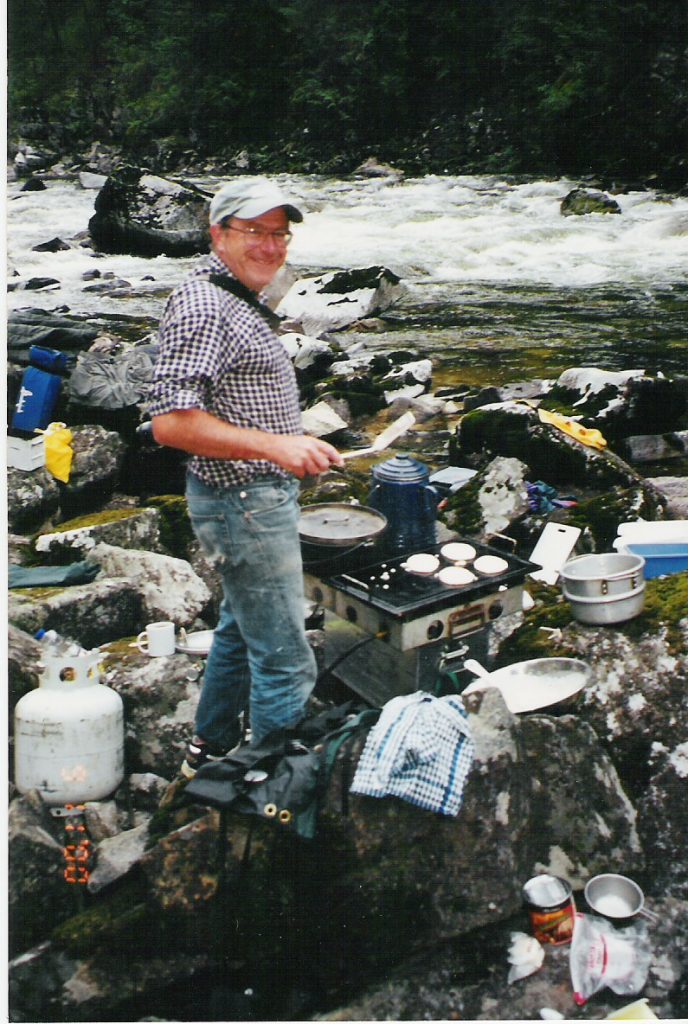 Photo Cred: "Smiling Bob" | Doug Tims 
Until I saw Jeremy navigate the Bear Creek Beast. He dropped into the left chute, stood on the oars bringing his Spider to a stop, angled right, pulled back UPSTREAM and ferried to a route I had not even seen, much less considered.

This year, consider packing your own Maravia Spider or AIRE Puma and head to the Selway. Please be aware that this post-controlled season opportunity will put additional pressure on a pristine wilderness resource that is accustomed to one small group per day most years. So be on your best river ethical behavior, super conscious of Leave No Trace and Minimum Impact. And look carefully at others you encounter on the river. They will have a big smile on their face, too!
Shop Narrow Selway Rafts!