Description
The Pop-Up Fire Pit is the first truly portable full-sized fire pit. Weighing in at just under 8lbs. the Pop-Up Fire Pit packs smaller than a camp chair so you can take it with you anywhere. Set-Up is quick and easy taking only about 60 seconds and needing no tools, nuts or bolts.
Using our patented Fire Mesh technology fires burn hotter, brighter, and with less smoke due to the increased airflow into the pit. Once your fire is extinguished, the entire pit cools down in 90 seconds so it can quickly be packed away back into the RV, Jeep, or garage.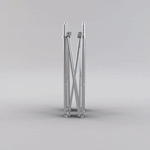 With the added heat shield the Pop-Up Pit can truly be used anywhere. By reflecting the heat of the fire back upwards, the heat shield guarantees that the ground will stay entirely cool for the duration of your fire. Enjoy worry-free fires on grass, wood decks, or other sensitive surfaces.
The Pop-Up Pit's modular design allows you to come back any time to upgrade your fire pit to meet your ever-changing needs.
Innovative design cuts the bulk and weight of traditional fire pits and the result is a minimal, packable full-sized fire pit
Ideal for RV's, cabin/tent camping, or tailgating
Aerospace-inspired design uses entirely rust-proof materials to ensure you get years of use out of your pit
Our Patented design also allows the Pop-Up Pit to cool in just under 90 seconds so you can pack up and get back on the move
Engineered to allow for maximum airflow meaning your fires burn brighter with up to 80% less smoke
Packable frame folds into a carrying case that's smaller than a camping chair
Designed to meet the USFS and BLM regulations for a fire pan.
Added heat shield for leave no trace fires